Recently, we shared some of our reviews from our mentors. This time we get the perspective of some of our alumni—we hope that you enjoy hearing from them.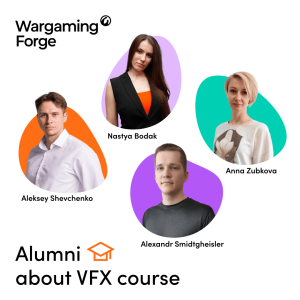 Alexandr Smidtgheisler
WG Forge is a huge opportunity to develop your career in a really great way.

I liked WG Forge—I do not often recommend programs to others, but I will tell my friends that I had an incredible amount of interesting experiences.

The effects were something new and untapped for me, it was also interesting to learn from specialists in a large and recognized company.

There were no concerns or doubts, there were local difficulties related to specific moments during the training, but everything was solved by receiving new information or support from mentors/colleagues in my team.

The training was interesting, complex, and engaging. We managed to go through the cycle of creating an effect for games from start to finish. I liked everything. Excellent mentors, great atmosphere, friendly fellow students—we helped each other and communicated well with each other. I gained basic knowledge of effects in games—their main types and principles of their creation.

I would definitely recommend this program to those who want to learn in a great environment and work with the best in the industry.
---
Aleksey Shevchenko
WG Forge is a great opportunity to learn from top professionals.

I decided to participate right away. Learning something new, especially from specialists of a leading company, is a great opportunity.

The training took place in a stress-free atmosphere of lectures, where we listened to new educational content 90% of the time. Our main mentor was very detailed and consistent in presenting the information, so even those who hadn't dealt with effects before were able to quickly create their own. I received answers to all the questions which have arisen during the process of learning.

I would also like to mention the friendliness of all mentors—the support in learning new things is very important, and theirs was 10/10 of what was possible. I was impressed by how unpretentious and good-natured the best specialists in the field were.

The format of the courses (for me, it looked like lectures in a good foreign university) prepared concentrated information on HOW to do it and WHY we do it without any excess data. That means not only theory, but also life experience with examples.

WG Forge is a great opportunity to learn from professionals. It was created not by an individual, but by a team, and it is convenient at all levels. All my friends/acquaintances dream of joining it 🙂
---
Anna Zubkova
The ability to make an impact through my work has been my favorite aspect of Forge.

As soon as I decided to change my line of work, I saw an article announcing the start of the VFX course, and that was kind of a sign for me.

Of course, I was concerned that I had no prior experience in the game industry, but I always believed in myself and Wargaming did too.

Everything on the course was very professional, exciting, and productive. A great team, top-level teaching staff, and a noticeable desire of mentors to create the most comfortable conditions for students.

We were taught not just techniques, but how to have a comprehensive vision, and we always received feedback.

I learned the basics of creating effects in Unreal Engine. Learning Houdini became a nice bonus. I am sure that all programs and methods will be useful in my future work.

I will definitely recommend the course to others!
---
Nastya Bodak
What would I wish for future students? Believe in your dreams!

I learned about Wargaming Forge at the end of school, and, of course, I wanted to enroll there.

All mentors, as well as the course curator, helped us in solving any difficulties related to the course program, and also provided feedback on our homework to each of us personally.

I really liked the team. They were friendly and experienced teachers with a sense of humor, which was evident even from the test task for the course enrollment. There were a lot of skilled guys. Everyone was friendly, no one competed, and everyone tried to sincerely help each other.

Wargaming Forge turned out to be a very useful program for me. Of course, during the course, we learned about effects in general, learned how to make all basic effects, and also learned how to compose a resume.

I gained experience and knowledge that you can't get from regular online courses or tons of interviews. I believe that all the knowledge I have acquired will multiply, and I will be able to build a career in VFX.

I recommended it to my friends back when I only dreamed of joining it, and now I will recommend it even more. I think this is a very useful experience.
---
Want to have this experience for yourself? We offer a range of courses and would love to hear from you if you think you would be a good fit.